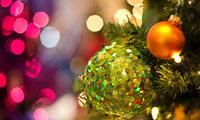 ... and a profitable New Year (when all of your competitors are struggling with the dry spell)
It's about this time of year that my savvy clients are putting the final touches on their Christmas Print marketing campaigns. The odd Christmas card starts to roll in about now too. There's a little bit more time for that. 2019 Calendars are hot off the press too. Psst: they make great strategic Christmas gifts for your clients if they're done well.
It might be the last thing you want to think about in November but time is actually getting away from you if you are looking to get your Christmas printing done in time to be successful.
The lead up to Christmas is one of the busiest times of the year so preparing early is essential.
So let's take a look at 4 of my top tips to make sure you are prepared:
1. Actually DO some Christmas Printing
So this is a bit of a no brainer. With your social media streams being flooded with Christmas cheer, stand out from the crowd and get your business message physically into the hot hands of your clients and prospects.
Christmas printing isn't just for retailers who want to get Christmas shoppers through their doors. Take a standard printed Christmas card for example. A perfect opportunity for ANY business who has the names and addresses of their clients to touch base, stay front of mind and actually show you care. Going to the effort of printing a 'real' card says a lot these days. Team it up with a fit (hint hint... calendars are great) and you're on to a winner.
2. Get the Design Right
Ok. So assuming you've decided to give the Christmas printing thing a go. Puh-lease don't just throw a bit of tinsel or glitter at your usual print materials. Use a graphic designer to carefully incorporate some Christmas cheer. Using traditional red and gold if your logo is hot pink and fluoro green won't really do your print materials justice. For the most part try to fit Christmas around your company. The only exception to this rule would be for Christmas cards. These are going to your loyal followers, clients and suppliers so these need to have a personal feel, have genuine Christmas cheer, rather than a corporate feel.
3. Plan & Make a schedule
Christmas is a hectic time for everyone. People and businesses are busy. That includes your staff AND us, your printer. You need to plan and if you haven't made a schedule get onto it ASAP.
A schedule will allow you and your people to know what is expected of them and in what timeframe. It also means you'll allow enough time for your design to get done without being rushed. And importantly (for us anyway) your printer isn't left with a timeline that's tighter than Santa's red suit.
4. Find a suitable printer
Oh wait. You've found Cariss Printing. Your one stop shop for Christmas printing for business.
Don't be afraid to ask us for advice on getting the most out of your Christmas print project. Even if you're still at brainstorming stage. Ideally start the conversation with us in late October or November. That's not to say December is off limits but do yourself a favour and heed some of my advice above. Call 1300 85 77 85 or email me on blair@carissprinting.com.au
Join our Newsletter Print2Profit News to stay on top of the best ways to maximise the results from your next print job.